Jeremy's changing family by Simone Collier. Illus. by Naya Lazareva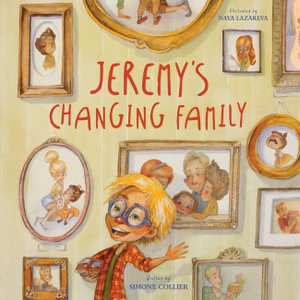 The idea of family is continually evolving and foster families are more complex than most. Jeremy and Riley's parents have become foster carers and it is a new experience for everyone. Jeremy is feeling unsure and uncertain about whether he wants to have other unknown children in his home sharing his room and toys. The children who are brought to his home are unable to be cared for safely by their own families and stay for short breaks. With some of the children Jeremy forms an instant connection but others are troubled and unsettled and Jeremy struggles with his feelings. While the fostering and caring situation is initially disruptive for Jeremy, his parents and grandparents handle each new experience with care and patience. The bright and colourful illustrations depict the emotions of each of the characters clearly. This is a very sensitively written story that has a place in all libraries: home, school and public.
Themes: Family, Foster Carers, Foster Children, Changes, Grandparents, Feelings.
Kathryn Beilby