Jack's jumper by Sara Acton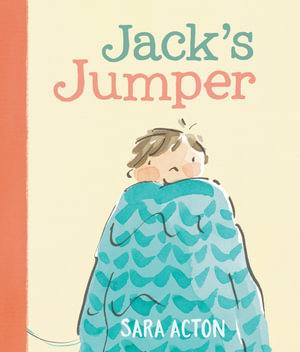 Sara Acton's beautiful soft illustrations rendered with pencil, ink and watercolour, beckon from the cover, captivating readers who would like to snuggle into the jumper along with Jack. The warmth of the cover continues as the story unfolds. Jack's jumper is so big it can be used as a tent, or a hat, a hug and if you fall over it is a soft blanket to fall on. The jumper once belonged to Jack's tall brother Paul. They were very close and did lots together, but since Paul has gone away, Jack uses the extra long sleeve as a periscope to chart his return, the regular postcards are read and reread. While having a bath, the cat begins to pull away part of the jumper, unravelling it as it is dragged from the bathroom. Jack is left with a pile of knitting wool. A noise at the door reveals the returning Paul, and Jack is ecstatic.
Jack hopes that Paul will spend time with him as before, but instead Paul takes himself off to his room and busies himself with something that does not include Jack.
The surprise ending will delight and win hearts as Paul does something extraordinary for his young brother.
The relationship between the two boys is wonderfully presented: practising magic tricks, cooking together, playing with hula hoops and training the dog. When Paul goes away, Jack is bereft, waiting at the window in case he comes back, enveloped in the large blue jumper, a memory of their life together.
Each lovely illustration shows Jack and the blue jumper, its warmth and comfort obvious to all readers. They will understand Jack's feeling for the garment, probably recalling something they held as dear. Acton has the ability in a few deft strokes of her pen to create a moment in time, one which is important to the protagonists and one which we all recognise. And I love the endpapers, detailing postcard moments in their life together. And my heart went out to Jack who excited at Paul's return, sits outside his brother's door with his magician outfit waiting for him to play with him. The images of the little boy patiently waiting for is brother are so evocative, they took my breath away.
Themes: Siblings, Family, Relationships, Knitting, Jumpers.
Fran Knight