It's not you, it's me by Gabrielle Williams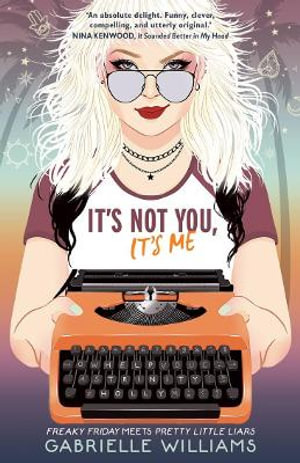 I literally raced through this book in an afternoon, unable to put it down. It takes a familiar trope, that of a teenager swapping lives with an older woman, but gives it a highly interesting twist – can you change your fate? Holly is a 40 year old woman, living in Australia in 2020 and living a dull, unfulfilling life with a boring boyfriend and few friends. Trinity is a 16 year old teenager, living in America in 1980. Connecting the two is their unusual birthdate, the 29th February, 4.16 p.m., and when Holly finds herself in Trinity's body, the only way she can discover to communicate with her is by typing messages on an orange Brother typewriter.
Unusually for a young adult novel, it is Holly who narrates the story, and it makes for a compulsive read. The reader finds out about both their lives. Holly's mother has never seemed to care for her and her grandmother brought her up. The way she relates to 'the Mom' and 'the Dad' and family life at Trinity's house is often poignant, and Williams also manages to bring an air of mystery into the story, with the mysterious occupant of the car that seems to be following Trinity.
1980's Los Angeles is brought to life by Williams. Descriptions of the houses, clothes, and way of life is really fascinating, and the use of Brother Orange to connect Holly and Trinity is fabulous. And all the while the reader is kept wondering just how the story will end. How will the pair get back into their own bodies? Will the kidnapper be successful and will each get a second chance at life?
With themes of time travel, destiny, rock music, a slight romance and crime, this is sure to be a winner with teens who may want to read some of Williams' other novels (The guy, the girl, the artist and his ex and My life as a hastag). Teacher notes are also available from the publisher.
Themes: Time travel, Destiny, Rock music, Art, Crime.
Pat Pledger