In Australia: A down under baby animal counting book by Marianne Berkes. Illus. by Jill Dubin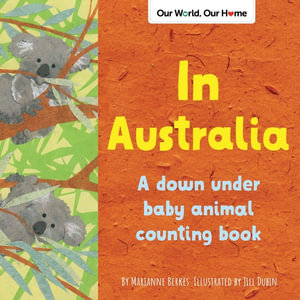 Very young children will delight in the gorgeous collage illustrations of Australian animals and birds and have fun counting their babies, while older children will learn not only counting 1 to 10 but the extensive notes at the back of the book will give detailed information about each animal. A lovely addition is a hidden creature for the inquisitive to find on each double page spread, with facts about those animals and birds given on the Hidden Animals page.
The illustrations are delightful and what make this a stand-out counting book. Made from collage, they are bright and colourful with each animal living in its habitat. For example, the sugar glider and her seven joeys cling to branches, set against a gorgeous blue/purple sky highlighted with gold sprigs. The long-eared bilby and her nine joeys are slurping in a red sandy place, while the crocodile snips and snaps in a swamp.
The rhythmic narrative makes the book one that is easy to read aloud, and which will be enjoyed by both the reader and the listener. Another feature which will make parents and teachers happy is a Tips from the Author page, where a series of handy activities for home and the curriculum are given. The illustrator gives ideas on how to make collages which will inspire children to try and make their own collage pictures.
I loved the illustrations in the book and schools and parents will find it a very useful addition to their collections.
Themes: Counting, Australian animals, Australian birds.
Pat Pledger