I'm a dirty dinosaur hide and seek by Janeen Brian & Ann James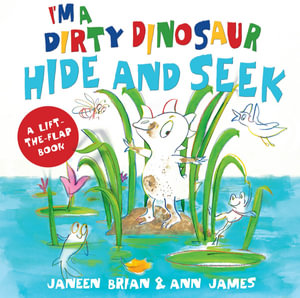 Fans of I'm a dirty dinosaur and I'm a hungry dinosaur will be immediately attracted to another story about the little dirty dinosaur, this time aimed at the very young in a lift-the-flap, sturdy board book format. The dirty dinosaur is looking for his friends, Bird, Bee, Frog and Fish, and little fingers must lift the flaps to see if they are hiding behind them. Each double page spread has two flaps, one with the dirty dinosaur's friend hiding behind it and another with the words 'Not here!' The repetition of 'Not here!' will be enjoyed by children who will love to call it out and useful for beginning readers.
The rhyming story makes the book lovely to read aloud. Children's vocabulary will be enhanced while gaining vivid images of the dirty dinosaur's friends from phrases like this:
Where is Fish?
Quick and slippery.
Silver tail flippery.
Ann James' illustrations are very appealing. The little dinosaur, with his cute face, cheeky grin and wide eyes prances through trees and flowers, stops by a pond strewn with water lilies and finally can be found making a huge splash on the final page. The soft pastel drawings are outlined with black crayon and minute details like little dragonflies and snails crawling up reeds will intrigue readers.
This is a lovely activity book that will intrigue and interest little children.
Themes: Humour, Dinosaurs, Hide and seek, Read aloud.
Pat Pledger