How to repaint a life by Steven Herrick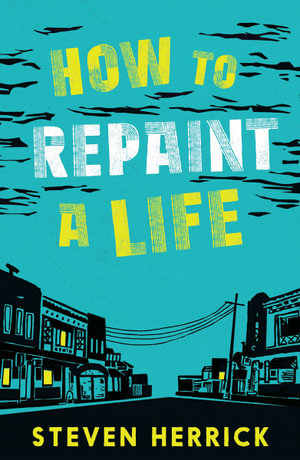 Another heart-warming story from Herrick is sure to please his fans and is one that I couldn't put down. How to repaint a life has Isaac leaving behind a difficult life with a violent father and finding a new chance in a small town. When he leaves the bus he has just his backpack and a small amount of money and his chief concerns are finding a place to sleep and something to eat. When he meets Joan, the owner of a small cafe, he is met with kindness and she gives him the chance to turn his life around, offering him a job and letting him try some new ideas to keep the café going. Meanwhile, Sophie, in her final year at school, is facing the future and thoughts about leaving town and going to art school. Both want to repaint their lives and try new ventures.
Strong themes of domestic violence, homelessness, bullying and loneliness are contrasted with bravery, kindness, art and family love. There are some wonderful portrayals of adults in How to repaint a life. Sophie's parents are loving and caring. Her father is quirky and his approach to solving local council problems while humorous are also very practical. Joan's decision to help a young man in need and to trust him makes a huge difference to Isaac, giving him a place to grow and leave the past behind. Isaac and Sophie are both characters that young adults could identify with, while supporting characters are very well fleshed out.
This would make a great class novel or literature circle text with its universal themes of overcoming the past and looking to the future. Extensive teacher's notes are available.
Themes: Domestic violence, Homelessness, Bullying, Loneliness, Kindness, Art.
Pat Pledger