How to make a friend in 6 easy steps by Dhana Fox. Illus. by James Hart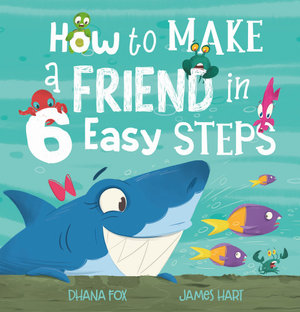 Rosie has a new book which is all about making friends. According to her book it only takes six easy steps. The first step is to smile, the second is to introduce yourself with a fun fact, the third is to say something nice, the fourth is to entertain with a party trick, the fifth is to share your favourite game or hobby and the final step is to ask your new friend to play. These are all excellent ideas for finding a friend and Rosie tries them all. However Rosie is a shark with lots of teeth and the other sea creatures are scared of her and she is left alone. Will Rosie ever find a friend?
This is a very appealing picture book for younger readers who will love the bright illustrations and simple text. A perfect book for the start of the new kindy or school year for teaching children how they might make a friend.
Themes: Friendship, Sea Creatures.
Kathryn Beilby