How to be a hero by Cat Weldon. Illus. by Katie Kear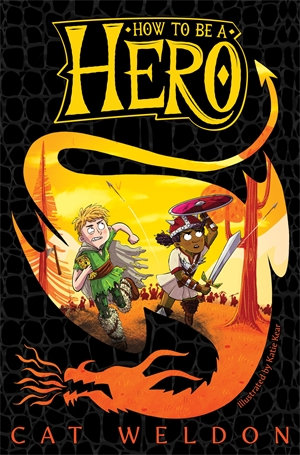 In picking up this book it is obvious the text is small and there is sometimes only one illustration per chapter. This may be daunting for readers under 9 years old.
The book starts a new trilogy from a new author. If you know nothing about Norse mythology (like me) it could have been confusing. But the first two pages include illustrations to help – one of Yggdrasil (an immense tree whose branches hold various worlds) and one map of Midgard (one of those worlds).
Chapter 2 adds 'A Guide to the Nine Worlds' describing all the worlds, how they interact and "who's who in Asgard" – this is excellent and easy to flip back to during reading.
The story is about diverse young misfits who each fear failing: Whetstone is a pale, scruffy orphan boy - an aspiring Viking thief from Midgard. Lotta is a dark-skinned girl with a mass of unruly black curls – she is a struggling trainee Valkyrie from Asgard. Their paths cross in a comedy of errors and they must work together to survive. They both learn they can be brave, as well as learning how to be a good friend and what it takes to be a hero.
The story is complex but is also fast-paced and funny. Silly touches include comical rhymes, songs and names (such as Awfulrick the Viking, and a cranky horse called Thighbiter). The illustrations are cartoony and keep the mood light – they are full of over-emphasised facial expressions and amusing details such as graffiti on a wall of Asgard that says, 'Loki smells of poOo'.
The story ends with Whetstone and Lotta having proved themselves and Whetstone learning about his parents. He is shown some clues to learn more. Chapter one of the next book is included in a sneak peek in the back along with activities including a Viking name generator – I am Kari the Horse Tickler!
Book two (The land of lost things) has just been released on 13 July 2021 and promises to continue the fast-paced fun.
Themes: Adventure, Norse mythology, Friendship, Bravery, Vikings.
Kylie Grant