House of earth and blood by Sarah J. Maas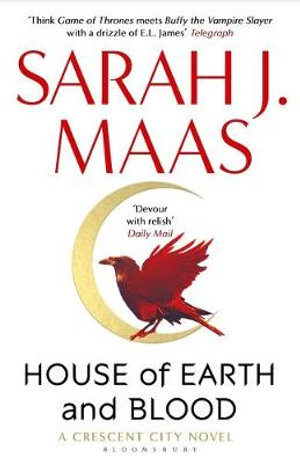 House of Earth and Blood, by prolific fantasy romance writer Sarah J. Maas, is another entertaining offering for fans and new readers alike. House of Earth and Blood is the first in a new series titled Crescent City, set in the world of Midgard where humans, Fae, angels, demons and other magical creatures coexist. The novel follows half-human, half-Fae Bryce Quinlan, a carefree young adult living her best life until a tragedy changes her world forever. Two years after her best friend is brutally and inexplicably killed, Bryce finds herself at the centre of a murder investigation that will have far-reaching consequences for both herself and her community.
Unsurprisingly for a Maas story, there are plenty of characters with painful and tragic pasts; every protagonist is damaged and traumatised in their own way. However, unlike Maas' other recent release, A Court of Silver Flames, Crescent City is saved from being a tedious cliche by Bryce's characterisation. Bryce is a strong, determined and sassy leading lady. She is less helpless, less forgiving of misogyny and prejudice and more assertive than many of Maas' other female protagonists. Maas appears to be more self-aware as an author in House of Earth and Blood, seeming to poke fun at some of the romance genre tropes she has heavily relied upon in the past.
Maas' worldbuilding has also improved in this novel. The world of Midgard is an intriguing mix of Ancient Roman and Celtic architecture and mythology and modern technology and culture. Woven throughout are the magical elements that anchor the book to the fantasy genre.
Like all Maas novels, House of Earth and Blood has a long, bloody and sexy narrative that, at times, can veer into the overdramatic. Overall, however, it is an entertaining and enjoyable read which bodes well for this new series.
Themes: Friends, Family, Death, Grief, Crime, Fae, Angels, Demons, Magical Creatures.
Rose Tabeni