He was tremendously scary and extraordinarily hairy by Christopher Maxwell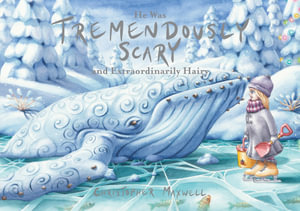 This wordless picture book is about confronting fears and worries head on. It emphasises that things that look or seem scary are not always as frightening as we might first think. The little girl in the story is clearly worried about the monster following her through the woods, but chooses to ignore it and push on with her fun-filled day regardless. Australian artist Christopher Maxwell's illustrations are incredibly rich and sumptuous. Taking his inspiration from a winter trip to Europe, Maxwell plonks the reader down in a snow-covered woodland. The little girl is conspicuously alone, bravely venturing out into the wintry world to indulge in some favourite pastimes. The tremendously scary and extraordinarily hairy creature (resemblant of a highland cow) makes an early appearance, a threatening shadow looming large over the terrified young girl. The reader watches as she continues on with her day, building a snow creature, sledding and ice-skating. It is unclear whether she knows the creature is there or just feels its presence, but the reader sees it and its obvious longing to join her play. It attempts to ice-skate alongside her but the ice breaks (the symbolic ice-breaker moment). The conclusion sees the little girl realise that the creature is friendly and they play together.
There is a fairytale quality to the illustrations: quaint cottages glow with light in the middle of the snowy wood, coloured lanterns are hung up in trees and fairy lights line the pathways. The story is easy to follow and lends itself to discussions about feeling frightened and how we deal with those emotions. Do we retreat or do we continue on our way and face our fears? There is also a small red ladybird hidden on each page which we keep children engaged and encourage them to look deeper into the illustrations.
Themes: Wordless picture book, Fear, Bravery.
Nicole Nelson