Hat-trick Teddy by James Tedesco. Illus. by Heath McKenzie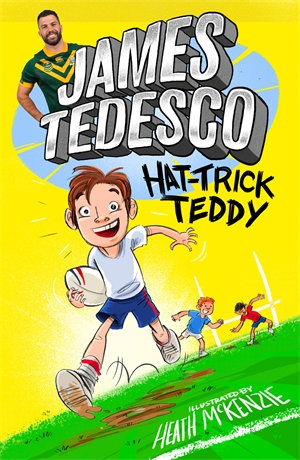 First off, I will confess my very limited knowledge or interest in NRL football. I researched James Tedesco who is the author of this novel and learnt he is a very successful player who has won the Jack Gibson medal, or player of the year, for the Roosters three times. This book is inspired by his own childhood and NRL journey.
In Hat-Trick Teddy, Teddy is a 12-year-old footy lover and with his tight group of friends, a die-hard Menangle Meerkats Rugby League Club supporter and player. Crisis occurs when the Menangle Meerkat's footy ground sinks due to a freak weather incident. Teddy is then offered a place on the Camden Rams, the Meerkats arch rival team. He feels conflicted about joining the team as he loves to play footy but feels he has betrayed the Meerkats. He keeps his decision a secret from his friends, who ignore him when they eventually learn the truth.
Set in country Australia, this story is going to be a great read for footy loving kids. My only hesitation in the book is about the typecast portrayal of the character Percy Kelly, a selector for the Great Southern Regional Team, as he first meets Teddy in a contrived situation, while playing a didgeridoo and mysteriously talks about Teddy having a gift.
Overall, this is a very positive book, that encourages children to strive for their goals. There are tips at the end of every chapter encouraging kids to be successful in both footy and life. It is illustrated with cartoon style drawings and the chapters are short and easy to read. There is a little extra piece of fun in the book with a flip the page moving picture of Teddy kicking a ball in the bottom corner of each page.
A new book in the series Red vs Blue will be available in July 2020.
This book will have the biggest appeal to boys as all of the main characters are male, girls are only mentioned when one of the boys has a crush on whatever unseen girl they dream about. Suitable for NRL loving fans ages 7-10 years old.
Themes: Rugby League Football.
Jane Moore