Harry Potter - Magical creatures: A Movie Scrapbook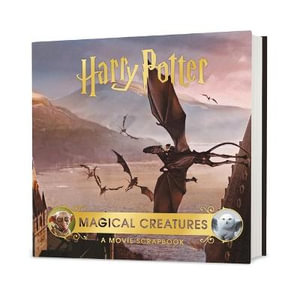 Harry Potter fans will relish the opportunity to collect and read another movie scrapbook based on the Harry Potter films. Titled Harry Potter MAGICAL CREATURES this latest scrapbook is a treasure trove of information on the beings, beasts and creatures from the movie. This beautifully presented publication provides a closer look at the well-known and in some cases lesser-known creatures of Hogwarts as well as the Fantastic Beasts. It includes bonus art prints, stickers and collectible inserts. Prefect for all readers of Harry Potter.
The Contents page is separated into headings of Companions, In the Classroom and Forest, Dragons, Under the Lake and Castle, Unexpected and Unwanted Visitors under the main heading of Creatures of Hogwarts. The first companion mentioned is Hedwig, the well-known snowy white owl gifted to Harry Potter by Hagrid, and who becomes his trusted ally throughout the series. Another companion is Scabbers, Ron Weasley's rat, that joins the two friends in the first movie. Under the Fantastic Beasts main heading are five names which may be unfamiliar to some readers. These include the Bowtruckles, which are small woody creatures that resemble stick insects and saplings which nest in wand-quality wood and the Nifflers who are born with an instinctive desire for shiny things.
Each page of information is presented in different coloured sections surrounded by distinct, glossy photos. There are brief and interesting facts presented throughout informing the reader of special effects and how the creatures were created, interacted and cared for in the making of the movies. Did you know that Trevor, Neville Longbottom's pet toad, was played by a quartet of toads housed in a large, heated moss-based aquarium?
This is a wonderful book to gift to those adults and children who are already fans of the book and movie series or who are just beginning their journey.
Themes: Harry Potter, Magic, Beasts, Creatures, Film Effects, Collectibles.
Kathryn Beilby