Harry Potter and the Deathly Hallows - Hufflepuff edition by J.K. Rowling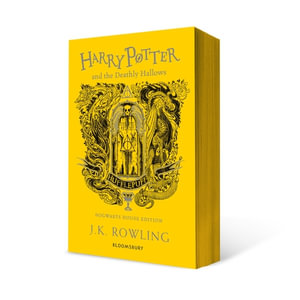 The final book in the Harry Potter series, Harry Potter and the Deathly Hallows is the culmination of Harry's years at Hogwarts and follows on from the shocking end of the 6th book in the series. Join Harry and his friends as they fight against Lord Voldermort and his Death Eaters who have taken over the wizarding world. Instead of returning to school where Harry would be arrested and handed over to Voldermort, Harry, Hermione and Ron set out to try to change things. They face perilous challenges as they race against time and their enemies to bring about the balance to end the wizarding war.
This new Hufflepuff edition of the seventh and final book in the Harry Potter series is brilliantly bright with its vibrant yellow cover and yellow page edging, which is essentially an odd juxtaposition to the dark and heavy story contained within its pages. That being said, loyal and true Hufflepuffs will love the edition, as it is the Hufflepuff House Edition, and includes special additions of Hufflepuff illustrations, Hufflepuff information and a quiz on Hufflepuff history! And of course, the epic story contained within the cover - the beloved characters, the mystery of the Deathly Hallows, the relationships, everything that makes the Harry Potter series so loved and well read worldwide. Fast paced and action fuelled; Harry Potter and the Deathly Hallows will answer all the questions readers have regarding the series. Hufflepuff Potterheads will be proud to add this edition to their collection, and as always for a book in the Harry Potter series, the book is well worth the read.
Themes: Fantasy, Magic, Wizards, Witches, Friendship, Love, War, Loss, Good versus Evil, Choice.
Melanie Phillips