Happy hoppy home by Tull Suwannakit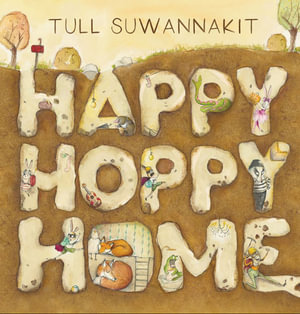 When the Hare family fills its burrow, it becomes evident that they must search for a new home. The four young ones are restricted by the burrow's tiny space: Dot cannot dance, Pip and Pat cannot play their games, while Baby Cottontail complains that there is too much noise to sleep.
So Papa Hare puts forward his plan: they will move to a bigger burrow. He burrows up but meets the sky, he burrows down and digs into someone else's house, he digs sideways and finds a frog in the bath in one, and a python curled up inside one burrow, amongst other animals in tricky situations. None want the Hare family in their house. At last his digging comes across the perfect house. They all love it; it is open and spacious, just right for their large family, but Baby Cottontail is scared to sleep in so much openness, Dot says it is lonely while Pip and Pat think there is too much space. But they must all start digging again when the real owner of the house returns, taking possession of her home. They dig and dig until finally they return to their old burrow which is warm and comforting, the perfect house for the family. So Papa Hare's new plan is to stay right where they are.
A charming story of finding the place where you feel most at home, the Hare family works together to solve the problem of not enough space but conclude that they have all the right ingredients for their family after all. A warm and loving story of 'there's no place like home' will endear younger readers, reiterating the need of family love and comfort, the closeness a family brings to each of its members and is a celebration of the richness that home brings to its occupants.
The lovely pencil and watercolour illustrations showcase a range of images which represent home for everyone: the bed shared by the family, the warm kitchen and the sharing of family togetherness. I loved the detail: the mail boxes above ground, the things the children take with them when they are eager to move, the animals they encounter on their expedition, the new house with all its differences. Readers will love exploring the illustrations and think about what home means to them.
Themes: Family, Comfort, Home, Change.
Fran Knight