Green rising by Lauren James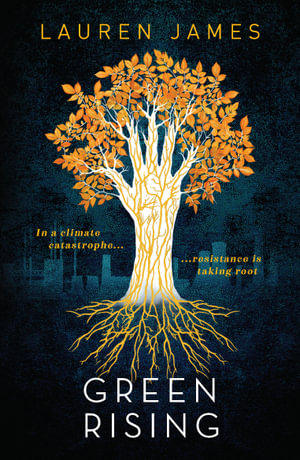 Climate-change activist Gabrielle becomes an international sensation when she becomes the first teenager to exhibit 'Greenfingers' powers - by growing plants from her skin. Theo, in the UK, is the son of a struggling fisherman who discovers his own Greenfingers powers when at sea and his dad's life is in danger. Hester is the daughter of an American energy king and she has fought to keep her Greenfingers powers from emerging, but then she slips up in front of Edgar Warren, eccentric billionaire who is leading the charge to live on Mars, having founded Warren Space and set up a colony on Mars already. These three teenagers are growing up in an ecological catastrophe and their new found Greenfingers powers might be the way to help the planet recover. If they can avoid being exploited, feared and persecuted, and find a way to work together that is.
Written by author Lauren James, founder of the Climate Fiction Writers League, this novel is part of the effort to raise climate change activism awareness. This science fiction dystopian is told from the perspectives of Theo and Hester, with articles, tweets, blogs and other media snippets intermingled throughout. Readers will recognise the influence of Greta Thunberg in this extremely relevant novel regarding climate change and activism. The story is well paced, moving between the two main characters seamlessly. Ideal for readers of other dystopian stories where teenagers are impacted by some environmental or viral factor, and develop powers, such as The Darkest Minds series by Alexandra Bracken.
Themes: Dystopian; Science Fiction; Climate Change; Global Warming; LGBTQIA+; Activism.
Melanie Phillips