Gone to the woods by Gary Paulsen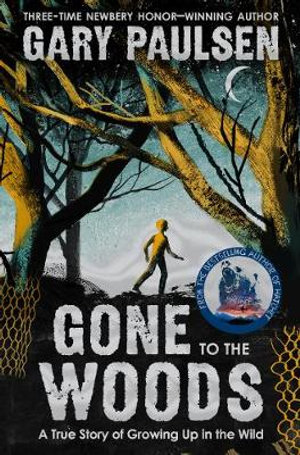 Gone to the Woods is a unique journey of a life – a tale of survival and resilience. Paulsen has written an autobiography which reads as a compelling narrative of the life of a person who has learned to survive, despite hardship and adversity. Written as a third-person narrative, the reader joins the author looking 'from the outside' into his difficult life and we are caused to admire Paulsen, the author of the well-known book series which includes the coming-of-age and survival story, Hatchet. Paulsen's life was never easy. He was born at the beginning of World War II and his emotionally-detached mother was an alcoholic and his purported father was distant - metaphorically and physically. Even as a young child, 'the boy' was forced to be independent, seeking his own food and avoiding danger. The book reveals so many examples of Paulsen's necessary and hard-fought independence and survival, but also of the occasional unexpected eruptions of love and care expressed by others … but not his immediate family. There is even the nod of affection for the librarian in his hometown who wove her gentle magic upon his life. With a focus on his younger years, and the pathos of the neglect he experiences, there is limited opportunity to explore Paulsen's adult life and we leave him before he has become an author, but with a profound respect for the rough road he has journeyed to get there.
This is a sad story and yet it is uplifting. The third-person view gives Paulsen an opportunity to separate himself from his own life and to give a fictional quality to his memories. This may allow for some inaccuracies in the remembering, but also gives the story the excitement and drama of fiction. Young readers of Hatchet will perhaps be too young to appreciate the clever approach to an autobiography, and the awful horrors of abuse and neglect revealed are confronting, but this is a book worthy of recommendation to a Young Adult audience.
Themes: Autobiography, Poverty, Hardship, Resilience.
Carolyn Hull