Goal!!! by Lydia Williams. Illus. by Lucinda Gifford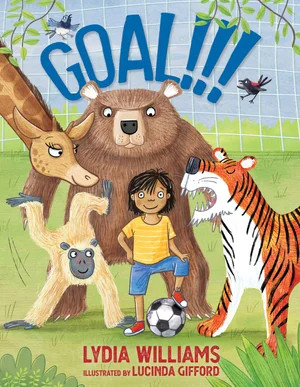 Lydia Williams, goalkeeper for the Australian Matildas, has written a follow up to Saved! This is a sporty, motivational story about how sport can bring people together and about appreciating the different skills that each team member brings. An introduction at the start of the book explains how her inspiration for the book came from her own experience of moving from outback Australia to a big city.
The story opens with a young Lydia, the same character from Saved!, soccer ball beside her, surveying the big city that doesn't really feel like home. She misses her friends, and playing and practising soccer by herself is not the same. She worries about how she will learn new goalkeeping skills and get good enough to play in the Olympics. To cheer herself up she visits the zoo. All of the animal friends she meets are so different to her old bush animal friends. They are loud, fierce, intimidating and fast and when they play she can't keep up. They are too good! Eventually she realises that by watching each of the animals and by getting to know them she can learn new and important skills. Day after day she gets better and better and they each support Lydia in their own unique way.
This is a gentle, inspirational story that will hit home with sports lovers, especially those dealing with the conflicting and varied character traits of their teammates and friends. Hopefully this will help them realise that everyone brings something to the team; sometimes we just have to be willing to listen, watch and learn.
Themes: Friendship, Soccer, Teamwork, Learning.
Nicole Nelson