Gangsta Granny strikes again! by David Walliams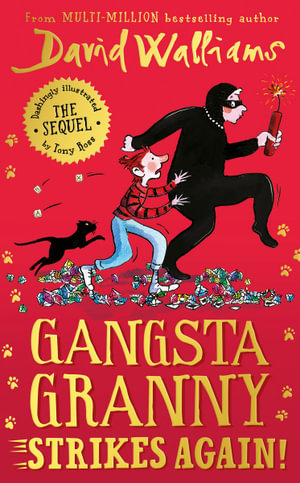 David Walliams' first-ever sequel was always going to be a hit - this follow-up to Gangsta Granny is fast-paced, funny, clever and warm-hearted all at once.
It has been a year since Ben's beloved granny died. Ben had always thought she was boring, until he discovered she used to be a jewel thief known as The Black Cat. Granny and Ben had great adventures together, and almost managed to steal the Crown Jewels and even met the Queen in the first book.
This sequel starts with news of a daring theft that has all the hallmarks of The Black Cat. But it can't possibly be. Who could be bold enough to be the copycat, and why?! Ben is on the case but must also fit in spending time with Edna (Granny's cousin) and getting in some ballroom dancing practice with Mum. The first theft is quickly followed by more. Ben desperately tries to piece together the clues, under the suspicious eye of nosy Mr Parker and the Neighbourhood Watch group. He finds a surprising ally in local shop-owner Raj, who enjoys causing chaos for Mr Parker.
When the identity of the copycat Cat is finally revealed to Ben, readers will be delighted. But that's only halfway through the story - there is still plenty to come at that point and loads more silliness, including lobster costumes, messy kebabs and a stolen police car.
There is also time to fit in a heart-warming discussion where Ben is reminded that Granny will always be with him. He is told that she will be with him forever but that 'when she died, you were walking through a storm. Over time, the rain has softened, and one day … the sky will be blue'. This is a lovely way for children to think of how love, loss and the passing of time affects those left behind.
Zany illustrations by Tony Ross really bring this story to life, along with different fonts and changing text sizes. And keep an eye out for hilarious footnotes explaining made-up words and deliberate puns!
Themes: Humour, Family, Adventure.
Kylie Grant