Gaia goddess of Earth by Imogen and Isabel Greenberg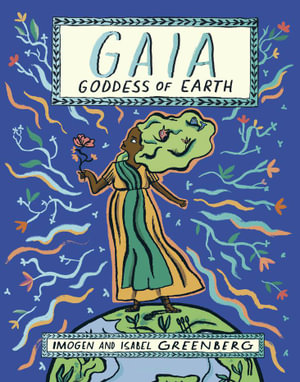 Gaia Goddess of Earth is an entertaining and enjoyable read. Written in very much a feminist mode, this complex and detailed story of Gaia, the Greek Goddess of the Earth, is simplified and told with both humour and serious intent. Gaia created the Earth in all its beauty, free from danger and trouble. However, her husband Ouranos, her son Cronus, and grandson Zeus all had other ideas. Their incredible greed and all-encompassing need for power meant that the Earth was subjected to famine, flood, war and destruction. Familial wars were fought between parent and child, siblings versus siblings with the mere mortals being caught up in the turmoil. It was a devastating time for Gaia. There is hope though, and Gaia does eventually achieve the peace she so deserves for her precious Earth. There is also a story within a story in this tale: the Earth needs to be no longer misused but cared for by all people. After all Gaia created only one Earth.
The gorgeous cover and stunning illustrations will appeal to all readers. The graphic novel-style format is a clever way to introduce children to ancient myths and legends and will be a popular read in a school or public library.
Themes: Greek Goddesses, Graphic Novel Format, Myths & Legends, Ancient Gods, Environmental Issues.
Kathryn Beilby