Frizzle and me by Ellie Royce and Andrew McLean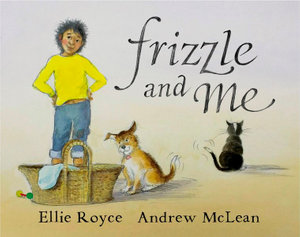 A charming story of an extended family will resonate with all children in our schools particularly those who are part of a melded family. The narrator and her mother live alone until Mummy falls in love with Jani. Eventually Jani moves in with them, and so the family became three with Jani good at reading stories at night. When the girl is three her father comes to stay. The family is now four, Mummy, Jani, David and the young girl. Each time she asks a number of questions about how things might change, and readers will love the answers, happy that the best things in her life will stay the same.
The family continues to grow as David marries Elizabeth. Again the questions about hugs and bedtime reading, along with David's cooking and Elizabeth's singing are asked, reassuring the girl that these will not change. Then when Elizabeth  becomes pregnant the baby's development is followed avidly by the narrator, eager to show the child she calls Frizzle, how to climb the tree.
This wonderful story gently underlines the things that are important to a young child; hugs, singing, cooking and reading. Each is shown with a disarming warmth by award winning illustrator, Andrew McLean who offers an extended family in all of its many guises. Readers will love seeing the things the family does together, sharing what they have, laughing and loving, taking the changes in their stride, but always making sure the child knows what is happening and is included and loved.
McLean's illustrations show a wonderful mixed family, two couples and a baby and the young girl, living happily together. The background shows a warm happy environment with fruit trees, vegetables growing in the raised beds, a warm kitchen well used by cook, David and lots of toys and books. It reflects all that is the best of a warm inviting family home and will be instantly recognised by the readers. The detailed illustrations, a mix of watercolour, pencil and gouache, will ensure the readers take in everything on each page as they read the gently humorous text. Teacher's notes are available.
Themes: Humour, Family, Love, Reading, Rainbow families, LGBT, Melded families.
Fran Knight