Forgotten in death by J.D. Robb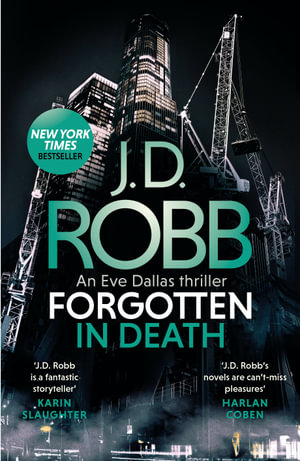 J.D. Robb has done it again with her 53rd book in the best-selling In death series, starring Eve Dallas, her husband Roarke and offsider Peabody. This is a compulsive read that fans of the series will love, and those new to Eve Dallas will be able to pick up the threads of the main characters and enjoy a new series. In Forgotten in death, J.D. Robb (who also writes as Nora Roberts) has chosen two topical themes to focus her murders on. The first is the death of a homeless woman, who turns out to have been a victim of domestic violence, while the second murder is of a young pregnant woman who doesn't fit into New York's high society. The themes of domestic abuse and class divisions make for a compelling story, as the reader will empathise with both victims and will cheer Eve along as she is determined to seek justice for them.
J.D. Robb always writes a gripping police procedural and Forgotten in death is no exception, with suspense building as the team investigates both murders. Her main characters are well developed and likeable and the interactions between Eve and Roarke add a touch of romance. Some humour is injected to relieve the darkness of the themes of racism, prejudice and evil.
The In death series is entertaining, the setting of the near future adds interest and Robb's ability to write an absorbing story will ensure that the next in the series is picked up as soon as it is published.
Themes: Murder, Detectives.
Pat Pledger