Footprints on the moon by Lorraine Marwood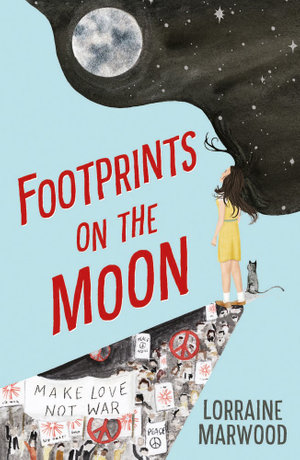 In 1969 there is a lot happening – the Vietnam War and conscription are hot issues, and travel to the Moon has become a possibility. But in this environment growing up is still hard and friendships can be lost and gained. For Sharnie, her relationship with older sister Cas has started to fray, and becoming a high-schooler has exposed some difficulties with her old friend from Primary school. Fortunately, Grandma can be trusted as a listening ear and support, but even she is changing . . . and she won't always be around. The political environment of the Vietnam conflict infiltrates into family dynamics and Sharnie has to work out her place in the world and how to exercise the power of her own voice and work out what mark she is going to leave in her world. This gentle coming-of-age verse novel, set in a time of change, is a testament to the power of this genre to address issues and to use language poetically and powerfully.
Addressing serious issues involving family dynamics, death and grief, school intimidation and war conflict, but doing so in a way that has a light touch and occasional dashes of humour, this book is worthy of attention. Marwood is a master of this genre. I could also see this as a text for Middle School English classes. This is a story to be recommended highly for readers aged 11+. Teacher's notes are available.
Themes: Family, Death and grief, Vietnam war, Protests, Moon landing, Coming-of-age, Verse novel/Prose poetry.
Carolyn Hull