Flourish for mums by Sonia Bestulic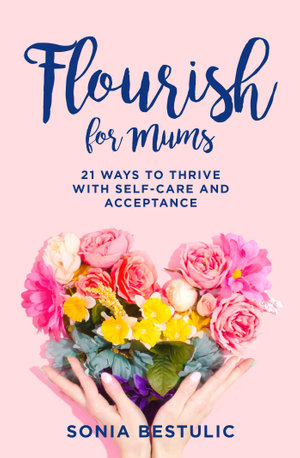 Sonia Bestulic has three children and runs a speech pathology practice where she has worked with thousands of families. She has also written two pictures books for children, including Kisses in your heart.
This is her first book for adults and is a gentle self-help book for mums, launched in the lead-up to Mother's Day 2021. There are 21 chapters each covering one way to encourage self-care and cultivate happiness. The chapters cover such areas as accepting others, knowing when to say yes or no, welcoming learning, staying social, detoxing your space, dancing more often and practicing gratitude.
The chapters are short and peppered with real-life anecdotes and advice, each ending with actionable points on how the reader can nurture, grow and flourish in that particular area. In between chapters are bright blue pages with inspirational quotes from famous people such as Oprah, Marie Kondo, Steve Jobs and Paulo Coelho.
This is a heavy little book that is best dipped into a chapter at once over time. Reading it cover to cover is quite overwhelming with so much advice and so many points at which the reader is encouraged to pause and reflect.
I generally find self-help books rather cringeworthy but, being a mother, was open to giving this one a go. Predictably I did not love the entire book however I did appreciate some practical reminders of things I know I should do but sometimes forget in my busy life (e.g. setting boundaries, taking time for reflection, making space for silliness, scheduling-in catch ups with friends). Overall this book achieves its purpose of encouraging and supporting women and mums to live happier, more balanced and fulfilling lives.
An 'additional resources' section at the back of the book lists websites, podcasts and social media links for those who want even more inspiration. The book itself also has a website which contains extra resources including a 21-day short video series.
Themes: Motherhood, Self-help, Parenting.
Kylie Grant