Florence Adler swims forever by Rachel Beanland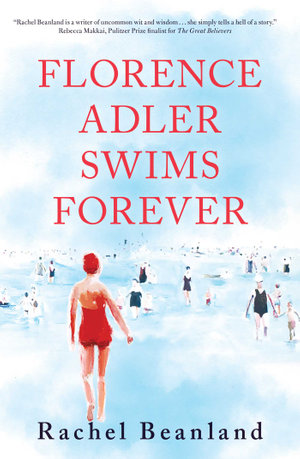 Florence is one of those people that everyone loves and admires, beautiful, smart and funny. She easily tunes into the imaginative world of her 7 year-old niece Gussie; she befriends Anna, the Prussian refugee; and she has clearly won the heart of the besotted lifeguard, Stuart. She is a champion swimmer and she is determined to break Gertrude Ederle's record for swimming the English channel. And yet, in the first chapter, something unimaginable happens, the lifesavers haul back her lifeless body from the sea.

This sets the scene for the central premise of the novel – keeping the news of Florence's death from her elder sister Fannie, confined to a hospital bed in the last stages of a risky pregnancy, for fear of precipitating another premature birth. Hyram, her first baby, survived only three weeks.

It is 1930's Atlantic city; a time of bizarre exhibition of premature babies in sideshows, speculative money-making schemes, and the ominous Nazi threat gathering pace in Europe. Florence's family are Jewish; even in Atlantic city, Jews are excluded from prestigious hotels.

Against this backdrop, Florence's family, friends, and the hospital staff all conspire to keep Fannie in the dark. It is a story of secrets. There is the overarching secret of Florence's death, but others also carry hidden stories – their father Joseph and the woman from his past; Anna, the mysterious foreigner; Isaac, Fannie's husband, with his secret schemes; even young Gussie is aware of the many secrets that adults attempt to keep from her.

The story quickly draws the reader in with each chapter presenting the viewpoint of a different person involved in the lie. We see how people handle grief differently, how each is generally good intentioned. The suspense builds as it becomes more and more difficult to hide the truth. I found the story fascinating and breathlessly read on, but must admit to disappointment that though the threads are all neatly tied at the end, the anticipated climax never really arrives. I think there must be another book in the making – about Fannie. How could one ever reconcile being the centre of such a deceit, no matter how well intentioned?
Themes: Historical fiction, Secrets, Deception, Grief.
Helen Eddy