Floof by Heidi McKinnon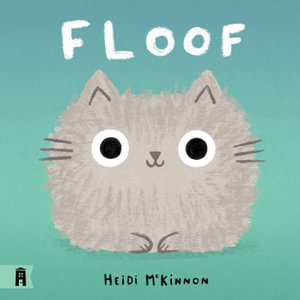 Instantly recognisable, the behaviour of the cat, Floof in this book will endear readers as they laugh out loud at his antics. The pared down image on the cover entices the reader to open and read of Floof's exhausting day.
Pondering over just why he is called Floof, and thinking about the variations of that word, little brains will tick over, as they ponder the images on each page alongside the sparse text. The beautifully succinct text, 'Floof meows, Floof eats' for example, tells the reader about Floof and his place in the family where every need is catered for without question.
His day is filled with activity: reading, gardening, playing the guitar, playing with friends, and each one of these activities is belied by the illustrations. Younger readers will love the contrast between word and image, laughing at the various poses he makes during the day. He climbs into a carry bag, lolls over the computer, meets his friends, sees off the dog next door, then meows for his tea which miraculously appears.
Once evening comes long we see a different cat. Now he is active and doing the sorts of thing cats are known for: stealing the dog's tennis ball and causing havoc with the vase of flowers and the toilet roll, until all tired out, he retires to bed.
A wonderfully humorous look at a big fluffy cat Floof will be a favourite amongst younger readers recognising the cat they have at home, or a neighbour's cat and the mischief it get involved in. But of course, his main occupation is sleeping, and that is well depicted in the funny illustrations. I love the image of Floof reading: that is, sleeping on a tall pile of books, or amongst his friends, a bevy of mice that other cats would decimate.
Beautiful illustrations by Heidi McKinnon cover each page, so real that kids will reach out their hands to stroke the fluffy fur. More about Heidi can be found here. And her opening page has a pile of characters from her other books (There's no such thing, and I just ate my friend for example) blinking at the reader. Kids will love the site as soon as they open it.
Themes: Cats, Sleeping, Animal behaviour, Family, Humour.
Fran Knight