Fire truck Santa by Nic McPickle and Nathaniel Eckstrom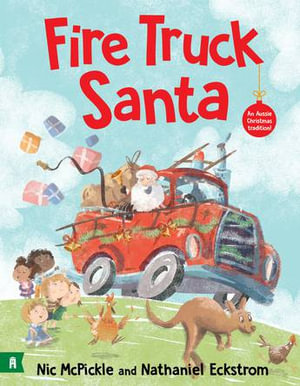 A great Aussie Christmas book that everyone will appreciate! Fire Truck Santa is a beautiful picture book that readers of all ages will enjoy throughout the festive season. Encapsulating kindness, care and love, this book is dedicated to all our wonderful volunteers around Australia.
Beginning with the traditional verse "Twas the night before Christmas…." it diverts off into a great Australian adventure. Santa, in his old and worn out fire truck, is delivering presents to all the children around the town. Each time something on the truck breaks, but every time the children work out how to solve the problem to fix his truck. They each provide Santa with something to help, offer him luck and of course he can't go any further without a yummy cookie. The children are in the Christmas spirit and so is Santa! But what is he to do when suddenly an almighty POP seems to have completely broken the town truck for good? What will the town do without a truck and how will Santa deliver his presents in the future?
Nic McPickle and Nathaniel Eckstrom have combined together to create a great Christmas story for everyone to enjoy. Sharing the true essence of Christmas, this story is sure to remind us of kindness, hope and goodwill throughout the festive season. The painted illustrations beautifully support and compliment the story line. This picture book is sure to be highly engaging and enchanting for all young children when read aloud. As they listen and enjoy the rollicking and rolling rhyme and rhythm, this is an Aussie Christmas tradition with a twist!
Themes: Christmas, Volunteers, Kindness, Problem solving, Community.
Michelle O'Connell