Fiend of the seven sewers by Steven Butler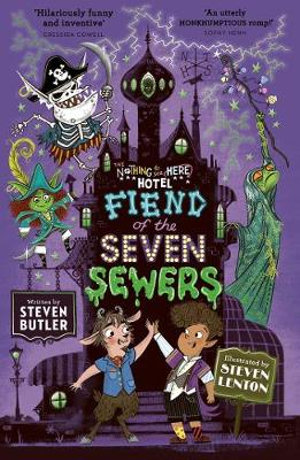 This is the fourth book in the Nothing to See Here Hotel series and Frankie Banister is yet again up to his neck in fantasy adventure. In this funkdastardly story Frankie is kidnapped and taken into the lower realms of the sewers where more magical and fantasy creatures with weird and wonderful features are threatening his cleanliness and his normal hotel life. With the threat of being dropped into the poop-laden sewer world with no further contact with his own bizarriferous family, Frankie must use all his wisdom and rely on other stranger-than-true friends to escape before it is too late.
With Dahl-esque created language (akin to BFG creations), that I have mimicked in the paragraph above (note: vocabulary not used by the author), Steven Baker has created a romp that is just a giggle from start to finish. Nothing is real and everything is impossible, but I am sure that children aged 8-11 will appreciate the absolute nonsense in this humorous fantasy adventure. I can also imagine that an adult who likes to read with funny voices or wants a read-aloud adventure into oddities and 'exciterous' story-lines will also enjoy this latest romp. Lenton's illustrations also reveal the quirky world and characters with his cartoon-style creativity.
Themes: Fantasy, Adventure.
Carolyn Hull