Fantastic beasts: The wonder of nature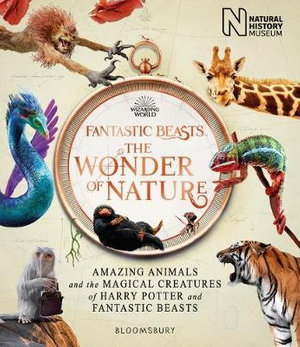 The Natural History Museum, the BBC and Warner Bros. have partnered to present the amazing animals and the magical creatures of Harry Potter and Fantastic beasts in a visually creative exhibition. This combination of science, film and literature in both a striking factual and fictional display was opening in the Northern Hemisphere Spring of 2020. Unfortunately due to the world-wide Corona Virus, this exhibition has closed indefinitely. Fortunately this superb coffee table–sized book Fantastic Beasts: The Wonder of Nature has been inspired by this exhibition and offers an opportunity to view the exhibits plus learn about behind-the-scenes roles from the safety of home.
Using aspects from the films and intertwined with some of the oddest and strangest creatures both past and present, the exhibition is a fantasy and nature lover's delight. From the beautiful cover showcasing the chameleon (hint: remove the dust jacket) to the final double-page photo of the curators at work, this book will provide readers of all ages with images and information to pore over time and time again. The Contents page highlights the area of natural environments or creatures under discussion beginning with Fantastic Beasts and ending with Saving our Natural World. Each chapter begins with a lengthy esasy from a well-known writer, environmental expert or natural history scientist who discusses their interpretation of the exhibition. Beautiful photos, illustrations, notes and maps entice the reader to explore new horizons.
This is a book waiting to be perused by an adult and child where they can absorb and share the wonderful images and information presented.
Themes: Harry Potter, Fantastic Beasts, Exhibition, Magical Creatures, Wizarding World, Natural History Museum.
Kathryn Beilby