Everything under the sun: A curious question for every day of the year by Molly Oldfield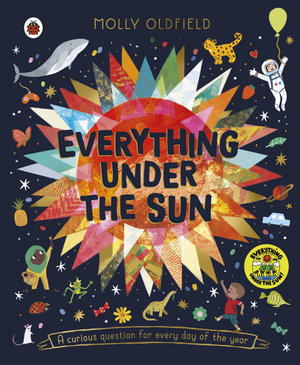 Molly Oldfield, the host of the weekly podcast, 'Everything Under the Sun' has complied a compendium of 366 questions which her young listeners have sent in from around the world. The book has been beautifully illustrated in vibrant colour by twelve different illustrators providing unique images to complement each of the questions answered.
Everything Under the Sun begins with a note for the reader where it is explained that some of replies to the questions are factual while others may be the contributors' opinions. This is followed by the contents page with each chapter being a month of the year. Molly gives a warm and welcoming introduction and then it is straight into the month of January with 31 questions to be answered. Some of these questions include: Does eating cheese give you bad dreams?, Why do Saguaros have arms? or How long would it take for my hair to grow like Rapunzel's? Month after month the young reader has the chance to find out responses to many amazing questions which children have asked the author. December's questions include: Has an astronaut ever seen Father Christmas? and Who invented Christmas crackers? Perhaps one of the more humorous and reassuring answers to the question Can Mrs Christmas help Father Christmas to see who is naughty or not? is from author Neil Gaiman.
The end of the book includes a page about Where will your curiosity take you next? and mentions libraries as being wonderful places to find books and seek help from librarians to answer your questions. There is a brief biography about the author, a thank you to the people who responded to the questions, a double page spread introducing each of the illustrators plus a thank you list of all the children who sent in questions.
This is a very worthwhile addition to any library for all age groups of children from pre-schoolers to upper primary students. A wonderful resource for a classroom teacher to begin each day with a new question.
Themes: Questions & Answers, World Wide Topics.
Kathryn Beilby