Ernest the elephant by Anthony Browne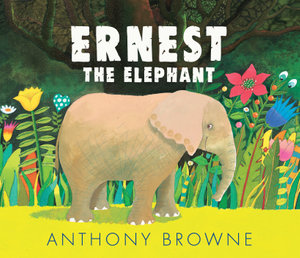 Ernest is the baby in a herd of elephants. Each day they walk and talk, eat and drink and at night they sleep. Ernest begins to think that perhaps there is something more to life. One day passing a jungle he asks his mother what it is. She tells him it is only a jungle, but intrigued with something different Ernest breaks off from the herd and goes to investigate. He is terribly excited by all he sees and walks on, unaware that he is going deeper into the jungle. His excitement begins to wane as he becomes a little concerned, the shadows become darker and he becomes a little frightened. It is then that he notices there is no path out of the jungle, so he decides to ask the animals for help.
The answers he receives are not helpful: the gorilla tells him to go away, the lion tells him to leave him alone, the hippo refuses to help, and the crocodile dives under the water. But a noise at his feet offers help. Ernest, unsure whether the little mouse can help at all, lifts him onto the head because that is the polite thing to do. And it is better to be lost with someone than be alone.
Despite his size the mouse is able to direct Ernest back to the herd and the little elephant is reunited with his mother.
A wonderful tale of exploring and getting into difficulties, Browne's understated text reveals how frightened Ernest becomes when he finds himself all alone and lost in the jungle. Browne's apt words reflect the elephant's initial excitement and growing discomfiture as he ventures into the jungle, wonderfully supported by the glowing illustrations full of life and detail. Children will love reading about Ernest, using the story as a springboard to talk of their own adventures, where they may take risks but with the surety that there is always someone to welcome them back home.
Author and illustrator of over fifty picture books Browne was Children's Laureate from 2009 - 2011. Learn more about him here.
Themes: Exploration, Independence, Growing up, Investigation, Curiosity, Support.
Fran Knight