Enter the jungle by Anh Do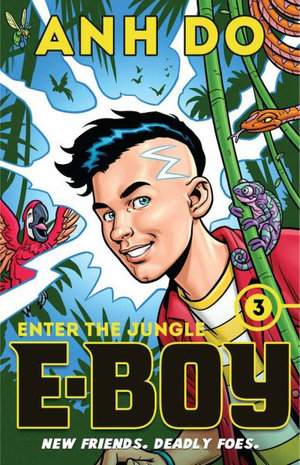 Main character Ethan is once again on the move. His parents are in trouble and he is determined to find out what is going on. He travels to the city of Esconda incognito and reconnects with them at a local resort. They tell him they cannot stay there any longer as there is danger all around. While out at a family dinner, the danger becomes apparent to Ethan. A notorious criminal known as The Money Man has taken over the city and uses his powers to draw money and valuables away from any people rich or poor he comes into contact with. Ethan attempts to thwart him and in doing so suffers an injury which lessens his power. Following this dangerous interaction, Ethan sends his parents to the Swiss Alps. Meanwhile, Ethan's only friend Penny is being held captive by Agent Ferris and even though Ethan has lost faith in Penny, he reaches out to her as he knows he is unwell and needs help. Penny makes her escape with monitored assistance from her captors and rushes to Esconda. Unbeknown to Penny she is being followed by the killer android Gemini whose mission is to destroy E-Boy. More confrontation occurs between E-Boy and The Money Man and Ethan's body is continuing to shut down. To get help Ethan and Penny must travel further. Unfortunately Gemini is close behind them and the reader is left wondering what will happen next. . .
Anh Do provides yet another fast moving and entertaining story for those readers who enjoy action and drama.
Themes: Robots, Androids, Good vs Evil, Fighting, Technology, Trust, Danger.
Kathryn Beilby