Emma Johnston: Marine biologist and TV presenter by Dee White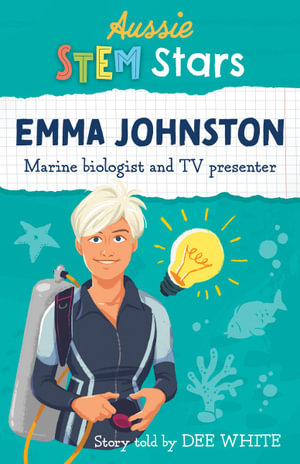 Emma Johnston's story begins with her idyllic childhood and the wonderful experiences she and her family were able to take part in. From sailing, swimming and snorkelling to living in places such as Japan and France, Emma was fortunate to be given the opportunities to challenge and nurture her curious mind. Emma also loved Maths and Science at school but felt strongly that girls had to struggle to be recognised in these subjects. She fought hard to gain a standing in the Science field and her journey is one of overcoming multiple challenges and fighting for gender equality.
Once Emma has finished her secondary schooling she was still unsure of her pathway. Her results guaranteed that she could choose any university course she wanted but she always felt that she wanted to be a Science Journalist due to her belief that reporting deeply about all things Science related especially environmental issues was the way to arouse people's interest. This did not quite go to plan and Emma instead focused on Marine Ecology. She is passionate about investigating the underwater world and finding solutions to the damage occurring in places such as Antarctica, Sydney Harbour and the Great Barrier Reef, due to climate change and pollution. Emma's leadership and ongoing research has been valuable to both others in this field and the general public. She has also presented on television in Foxtel/BBC TV series 'Coast Australia'.
Emma Johnston was made an Officer of the Order of Australia (AO) in 2018 for "distinguished service to higher education, particularly to marine ecology and ecotoxicology, as an academic, researcher and administrator, and to scientific institutes". Her story is one of great resilience and perseverance and is a worthy of inclusion in the Aussie STEM Stars series.
The highly descriptive writing of author Dee White will allow the reader to be drawn into Emma's story and become a part of her journey. A very enjoyable and informative read, and an important addition to a school or public library.
Themes: STEM, Scientist, Research, Oceans, Diving, Antarctica, Climate Change, Environmental Issues.
Kathryn Beilby