E-boy: Robofight by Anh Do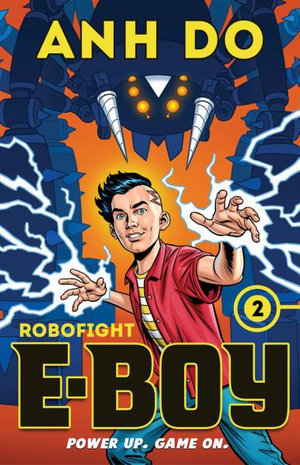 Ethan has spent a week on the run. He has transformed from being a teenager with a brain tumour to a super-human with power to hack any electronic computer system using his thoughts only. Doctor Penny, a well-renowned surgeon and roboticist, has joined Ethan as a fugitive from both the evil President Bonner and her own android creation, Gemini.
Book Two of this fast-paced story is set in an arena where The Robofight Games are being held. The Games are an opportunity for each land to showcase their mastery of robotics. In this final event six incredible robots fight each other to find the eventual winner. Each robot is highly unusual and skilled in various ways. The participants are Arachnatron from Harkland, Nightmare from the Nations of the Arid Plains, Battle Moon from France, Gardener from Oceania, Hammerhead from Equatoria and Gemini from Titus. Without the detailed illustrations by Chris Wahl the reader would have a difficult time to visualise how complex and different each of these robots are. While the fight is taking place Ethan and Penny are desperate to track down Gemini and re-programme him in order to eliminate his desire to eliminate E-Boy. On their mission, they have to outwit Agent Ferris, a People's Service Agent as well as using Ethan's amazing skill to dismantle numerous computer systems. Ethan and Penny also become aware of a disastrous plot being set in motion by the nefarious President Bonner. To thwart this becomes their prime objective but the cost will lead to the unravelling of the pair.
Anh Do continues to entertain his readers with his understanding of what appeals to his readers and how to maintain this engagement. Hopefully Book Three is not too far away.
Themes: Robots, Androids, Good vs Evil, Fighting, Computer Systems, Trust, Danger, Team Work.
Kathryn Beilby