Drover by Neridah McMullin and Sarah Anthony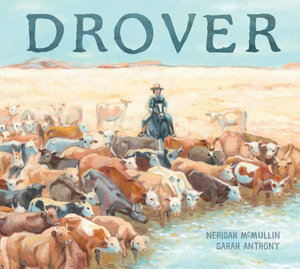 Vivid writing takes the reader along with the team droving a mob of cattle from Western Australia to Queensland in the 1950's. The boss, Drover, leads the mob while the rest of the team keeps the cattle in check - all watching out for Shifty, a skittish animal destined to spook the herd. The first pages tell readers of the life of the drovers, riding along with the herd, making sure the cattle stay away from thorny trees, the cook and his team sent on ahead to make camp, relaxing by the campfire after a long day's ride, listening for anything which may cause the herd to move unexpectedly.
And one night it does.
Drover wakes hearing the mob on the move, and the team rides furiously along with them, trying to turn Shifty before he takes the mob into the woodland from where they will be impossible to retrieve. But all is well, Drover and Midnight manage to turn Shifty, and once turned the mob moves in on itself, eventually slowing down. A disaster is averted.
They move on the following day making sure the mob is well watered before the next part of the journey, the team catching up on information from the bulletins left on the watertanks by other drovers. At the next town, they are cheered by the populace, welcoming them after their six month stint across the north of Australia. They are all looking forward to a hot bath and a soft bed, none more so than their boss, Drover.
The oil illustrations are masterful, drawing the eye in to the drama and detail of the Australian landscape, the look of the mob, the team astride their horses. Each page reveals something new to admire and take in - the scope of the mob, giving an impression of thousands of animals straggling away as far as the eye can see, the stunted desert trees, the night skies, the welcoming tiny country town, and the magnificent images of the mob racing across the pages, spooked by a bandicoot, running unleashed. The looks in their eyes will resonate with the reader long after the last page is turned, wondering what it must have been like to be out in the desert for half the year, only a few in your team, responsible for thousands of animals.
This is a wonderful look at a time in the not too distant past, when cattle were not trucked, but herded across country, an almost unimaginable lifestyle recreated before our eyes.
Information at the end of the books will impel people to reread the book, taking perhaps more note of the illustrations, and lead them to ask more questions, and do further research. A handy glossary finishes the book which has stunning endpapers to set the scene. Classroom ideas are available.
Themes: Edna Jessup, Droving, Drovers, Outback.
Fran Knight