Dreams bigger than heartbreak by Charlie Jane Anders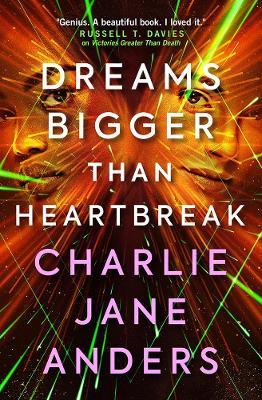 This is one for Sci-Fi lovers! With the future of the galaxy in peril, a group of young people (and some young aliens) are compelled to set aside all that they desire in order to help rescue the galaxy itself. Rachael has lost the delight of her artistic skill since being overcome by an alien force and is living with the distress and the voices in her head that add further distress. Her relationships with others have been impacted and she feels like a shadow of her former self. Tina is a student at the Royal Space Academy learning amazing things to help save the universe from destruction, while also being an amazing friend to others. Elza has the opportunity to be schooled and selected as a Princess, but will it mean that she loses her connection to her friends and can she understand the appearance of someone that fills her with dread. The interesting mix of humanoid and alien creatures, technology and space logic creates a drama with Sci-fi glory.
I confess that I am not one who loves leaving earth to discover story and drama and that Sci-fi is not on my list of 'must-reads' especially when it is set in space, so this book did not really warm my heart and I found it difficult to finish. But despite that, I could see that those who enjoy space-themed Sci-fi will find this appealing. The embedded emotional drama of non-conventional relationships and overcoming opposition kept me going, in amongst the alien vagaries and political intrigues, and technological quirks of space life and travel. The author has included the complexities of gendered identity, with technology revealing preferred pronoun identification that may also include variable identity and even 'fire' as a gender, as well as more traditional he/him, she/her and they/their. This is Book 2 of a Trilogy so the characters' back stories would have been easier to understand having read the first book, but still was introduced adequately. The story ends with an obvious link and hint of the direction of the final instalment. So those who are keen on a sci-fi adventure should start the Trilogy with Book 1: Victories Greater than Death. There is considerable complexity in the storyline of this book and the drama of the destruction, or saving, of the Universe has many avenues of concern.
Themes: Sci-Fi, Space, Relationships, Friendship.
Carolyn Hull