Dream riders : Kai by Laura Bloom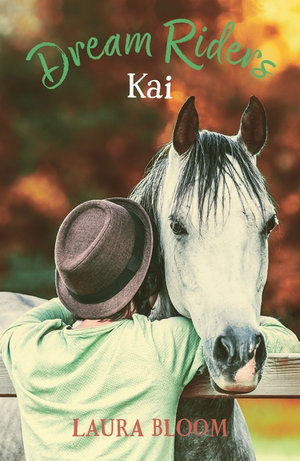 Kai is number 3 in the 4 book series Dream Riders. Each book in the Dream Riders series follows the story of a different young person as they join the Dream Riders equestrian centre called Pocket of Dreams where teenagers are taught natural horsemanship by horse- whisperer Shannon Faulkner. Natural horsemanship involves learning to understand the brumbies through studying their relationships within the wild and building rapport and respect so that they can be handled without saddle or bridle. The sanctuary within these books was inspired by a brumby sanctuary near Tenterfield set in the Byron Shire region of NSW.
Kai is narrated in first person by Kai, a Taiwanese teenage boy. He, like the other protagonists in the series, has been sent to the Pocket of Dreams, because he needed time out. As he tells the story, the reader cannot but see him as a thoroughly likeable person. It comes as a surprise that he has been suspended from school. Gradually, through the unfolding story, the reader learns of Kai's sister's struggle with an eating disorder and of some poor decision making on Kai's part that has led him, like his new friends at the equestrian school, to not really fit in with the crowd.
The young people at Pocket of Dreams develop close friendships and potential romantic relationships as they are brought together to bond with, care for and rescue a wild brumby each. The mutual developing trust and love between Kai and Monty, a dapple-grey brumby, is a beautiful process for the reader to follow. With his new found love for Monty, Kai develops responsibility and embarks on a dangerous rescue mission in the face of wild bushfires when Monty's life is in peril.
The friendships that Kai has with the other three teens, the older horse whisperer Ginger and his ever loving and supportive family along with his new found love for a wild brumby result in an older, wiser young man who learns to face life's challenges in a mature manner.
A series about the Australian wild horse, incorporating character diversity in a warm and natural manner, Dream Riders is recommended for late Primary/Middle years readers. It is recommended that the series is read in sequential order.
Themes: Horses, Bushfires, School issues, Friendship, Fitting in.
Wendy Jeffrey