Dragon skin by Karen Foxlee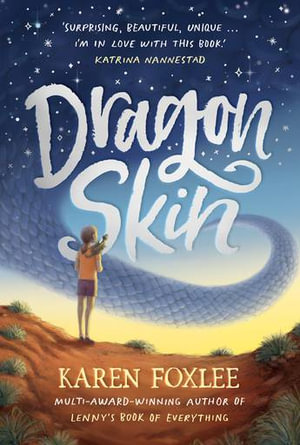 How to save a dragon:
1) Assemble equipment. Water, Weet-Bix, sugar, syringe, sticky tape, scissors.
2) Believe in everything.

Pip never wants to go home. She likes to sit at the waterhole at dusk and remember Mika, her best friend. At home her mother's not the same since her boyfriend moved in. They don't laugh anymore and Pip has to go to bed early, turn off her light and pretend she doesn't exist. When she finds a half-dead creature at the waterhole, everything changes. She knows she has to save this small dragon and return it to where it comes from. But how? (Publisher)
This book is beautifully written with language and imagery that fits with the intended reader age range (10+ years).
Pip is struggling with life in every aspect, her home life has changed since her mum's boyfriend moved in, her school life is hard without her best friend who left without saying goodbye and everything in between is lonely and fills with sadness and loss until she finds a small creature who is more dead than alive near the waterhole where her happiest memories lie and where she feels closest to Mika.
Pip keeps the dragon secret and alive using techniques she has learnt while saving other animals, including a small kitten that lives with Mika's grandma and ideas that come to her through conversations with Mika in her head. She is struggling to know what to do next until she decides to trust two of her classmates, who she has never been friends with and ask them to help. Together, they save the dragon and forge a new friendship that allows Pip to ask for what she needs from her mum and develop a new understanding of the struggles others might have around her.
This is a book of friendship and hope, but it is filled with sadness and struggles too that the reader will empathise with, such is the brilliance of Karen Foxlee's words. While they may never have experienced loss or domestic violence the reader will understand Pip's struggles through the story and will be relieved at the ending, that actually feels more like a beginning rather than a finale.
This book was a wonderful read and it is one that I would recommend to anyone, although I do feel that it needs to be read by a mature reader to fully appreciate the stories that are woven throughout the narrative, having said this, a 10 year old will engage with and love this book but depending on the reader's maturity may not fully understand the unsaid stories that are the framework for this amazing book. Teacher's notes are available from the publisher.
Themes: Friendship, Dragons, Domestic violence (implied), Survival, Loss.
Mhairi Alcorn