Don't forget by Jane Godwin and Anna Walker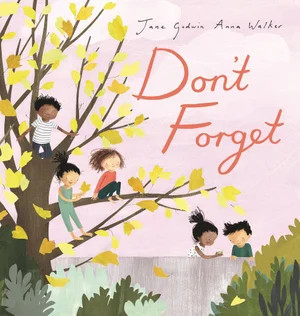 At first the things that we must not forget are the mundane, the ordinary: wearing socks, making the bed, doing homework. But soon the reminders are far more about people and the environment around us, reminding us to smile, lend a hand, listen to the music, watch the sea, to run and laugh.
This salutary reminder of who we are and what is important in life, will not be lost on the reader, as they may have concerns about who they are and where they fit in.
A subtle emphasis on mental health has been enfolded within many recently published books and they are more adept at reminding people to accept who they are, to be happy with themselves, that there are far more important things in life that making the bed or doing homework.
Melbourne based author/illustrator, Anna Walker uses pencil, ink and collage for her work. She loves the everyday details of life and uses them to perfection. Her picture book, Mr Huff, won the 2016 CBCA Book of the Year for Early Childhood. On each page of this new book, Walker includes small details of a child's life: cycling, reading under a makeshift tent in the lounge room, playing with friends, shopping, playing with the family, flying a kite and climbing a tree. All things readers will recognise. Full of activity, many outside, nearly always with friends and family, the illustrations parallel the text, reminding us all of the good things in life, not to forget them while absorbed in the things some see as important.
Jane Godwin has written over twenty books, published internationally and awarded in Australia. With this book, reminding us not to overlook the simpler things in life, she helps students discuss issues which concern them, encouraging them to see that they aren't alone.
Don't forget not only applies to the things shown, but also to the family and friends around us, people with whom we can communicate our worries, peers with whom we can spend time.
Themes: Mental health, Communication, Friendship, Family.
Fran Knight