Dogs in disguise by Peter Bentley & John Bond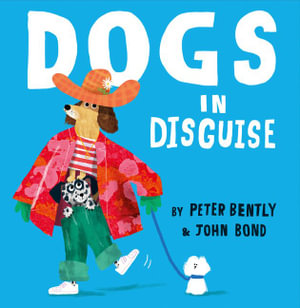 Readers of all ages will laugh uproariously at the dogs in their various disguises, trying to sneak into human confines where no dogs are allowed. From the inviting front cover with a group of dogs making up a handsome looking fellow to the back cover with its heavily moustachioed dog sitting eating a sausage, children will love this tale. Starting with 'Dogs come in all kinds of shapes and disguises, but when no one's looking they put on disguises', children will love being involved with the rhyming text, predicting the rhyming word at the end of each refrain. They will laugh at the antics of the dogs trying to look human and laugh with glee at the disguises used. Each word rhymes with a breed of dog, another level of interest and fascination for younger and older readers. Young readers' favourite will be the two pages about Barney the beagle who cleverly disguises himself as a tree to enable him to get closer to the barbecue in order to steal some meat. But he forgets that other dogs also like trees and the look on his face is just priceless as he gets very wet feet.
The illustrations by John Bond are cleverly entwined with the text, giving another level of humour to an already funny story. Children will love looking at the detail of each dog's disguise, working out how they could get themselves into those clothes, and working out some disguises for themselves. Dress up is always a favourite time with kids and this story parallels those times at home and at school. Kids will love looking at the expressions on each of the dogs' faces, working out what they feel and may be thinking, supporting emotional intelligence.
Themes: Emotional intelligence, Rhyming text, Dogs, Humour.
Fran Knight