Dinosaur Whack! The Stegosaurus by Peter Curtis and Jeanne Willis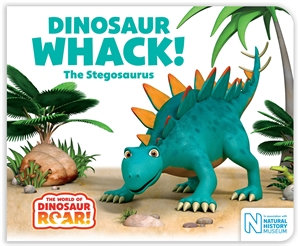 This sturdy board book will delight fans of dinosaurs with its colourful illustrations and rhyming verse. Dinosaur Whack is a stegosaurus who is very clumsy. She has a very long spiky tail which scares her friends and sometimes even knocks them over. Poor Dinosaur Chew (an iguanodon) and Dinosaur Whixx ( a coelophysis) get whacked and Dinosaur Boo (the deinonychus) is bopped. It is not until some juicy foliage is stuck on her spikes that the other plant eating dinosaurs can see some use for her tail.
The rhyming verse make this a great read aloud for younger children, and emerging readers will enjoy the rhythm of the narrative, while learning much about the stegosaurus and see other dinosaurs as well. The illustrations are cute and colourful and will appeal to the young audience.
A double page spread gives interesting facts about the stegosaurus and will introduce new vocabulary to the reader/listener, with words like 'quadruped', 'bony plates' and 'plant eater' explained.  The book was produced in association with the Natural History Museum, with facts verified by Prof. Paul Barrett of the Department of Earth Sciences, so parents and teachers can be sure that the young reader is gaining accurate information.
This is a fun book that will bring pleasure and great dinosaur facts to the very young who will want to read others in the Dinosaur Roar! series.
Themes: Dinosaurs, Stegosaurus.
Pat Pledger