Diary of a Wimpy Kid: Big shot by Jeff Kinney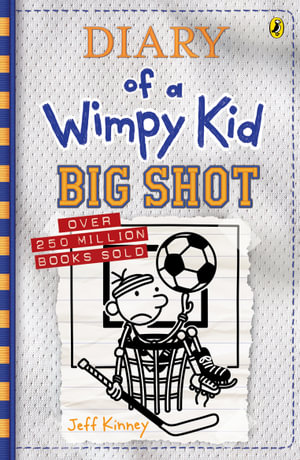 This is the 16th book in the bestselling Wimpy Kid series, which chronicles the humorous musings of middle-grader Greg. This one is obviously perfect for existing Wimpy Kid fans but particularly for any kid who's ever been a terrible player on a terrible sports team. Greg already knows he's hopeless at sport and his previous experiences with team sport have convinced him that he's just there to make the other players look good. But despite everything, he isn't ready to give up on sports just yet. When he somehow ends up on a basketball team filled with all the kids who weren't picked for the real basketball team he finds himself somehow still the worst of the worst. Is there any hope for a win? The funny twist that comes right at the end is out of left field and will leave readers chuckling.
The humour in this comes from the naivety of Greg and his attempts to make sense of the madness of the world around him. His outings to the gym and a football game with his father are comical, as are his mum's attempts to teach him about misleading food labels and advertising. As with some of the other books in the series there are some references to physical violence and verbal insults so best suited to a slightly older audience than many other illustrated chapter books. There are, however, some positive messages about extreme perseverance and teamwork. Overall, Big Shot is relatable, fun and super readable: another fantastic addition to the Wimpy Kid series.
Themes: Team Sports, Basketball, Humourous Stories.
Nicole Nelson