Derek Dool supercool : Run for your life by Adrian Beck. Illus. by Scott Edgar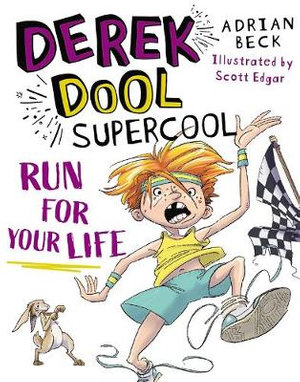 Derek Dool supercool : Run for your life is the third book in a series starring Derek Dilbert Dool, a highly likeable rascal.
Derek's wish is to be supercool and famous. He thinks there is an opportunity to achieve this by winning a school cross country event. The lead up to the event is action packed with much mischief, plenty of hilarious, laugh-out-loud mishaps and mayhem.
The third person narrative is active, buoyant and observant. The narrative is laced with cool vocabulary, popular lingo, idioms and jokes. The situations that Derek finds himself in are often awkward and embarrassing, difficult at times and mostly always hilarious. Descriptions of situations prior to the race like the parent interview, the conversation with his father in the shower and the performance in the town centre are hilarious. There is much toilet humour; many fart/diarrhea instances. "Dad-jokes" abound and are integrated well within the plot. 
Derek Dool supercool : Run for your life is highly illustrated in the vein of Diary of a wimpy kid. The font is similar and typesetting is varied with pictures and text arranged to produce exciting page layouts."Bonus chapters" are included. This might be quite a surprise to the reluctant reader! This book (and series) is perfect for both the confident and the reluctant reader. It is naughty and rude - just what kids love.
Despite the loss of storyline coherence during the race, this book (and series) will be an enjoyable addition to any humorous, highly illustrated collection. It is certain to be greeted with hilarity by students - especially primary years boys. It is ideal for read aloud in the classroom especially if children are in need of some lighthearted fun. It is very important to bring back fun into children's lives and particularly important that it is done through the medium of books. Books like Derek Dool supercool : Run for your life will help entice another generation of children back to reading for sheer enjoyment.
Themes: Primary school, Cross-country racing, Friendship, Hobbies, Family, Identity.
Wendy Jeffrey