Death sets sail by Robin Stevens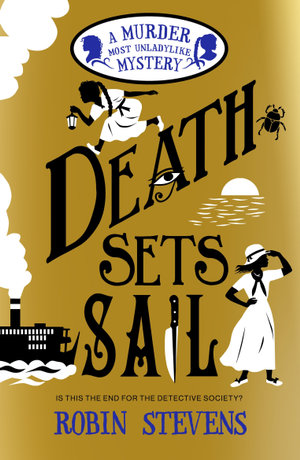 Death Sets Sail is the final novel in the best- selling, award winning series: Murder Most Unladylike Mysteries.
For anyone who cut their teeth on Agatha Christie murder mysteries, it is pleasing to see that the Murder Mystery genre might be reemerging for young readers. Fingers crossed! It can segue into a lifelong love of fiction.
Death Sets Sail is a very upper class English, preppy romp-spiffing! The main protagonists are three teen-age girls who are experienced sleuths. Together they have formed The Wells and Wong Detective Agency. The narrator is Hazel Wong, aged 15. The setting for the murder is a cruise-boat on the Nile in the 1930s. Knowledge of Egyptology, History and Geography are enriched as readers are immersed in locations like the Karnak and Edfu temples, the lives of ancient pharaohs and the activities of a religious society of reincarnation believers.
The plot unfolds reminiscently of a game of Cluedo. Maps, to-do lists, plans, notes, letters, clues, and re-enactments abound, representing logical solution finding through the process of elimination. What great organisational thinking strategies this book supplies for the Tween/YA reader!
The detective schoolgirls, who are boarding school friends, are of Chinese, English and Egyptian heritage. Being a coming of age story to boot, Stevens manages to naturally include multiculturalism and budding diverse sexual identities. These are comforting things to read about when one is a tween or young adult.
This book and series is a most satisfying introduction to the murder mystery genre which has been somewhat underdone for tweens. Capitalizing on individual strengths, the young detectives solve the crime. There is (of course) an unexpected twist.
The packaging of the book (the bright gold cover and the purple edged pages) is unusual and attractive.
A riveting, addictive page turner - highly recommended for upper primary and YA readers.
Wendy Jeffrey