Daring to fly by Lisa Millar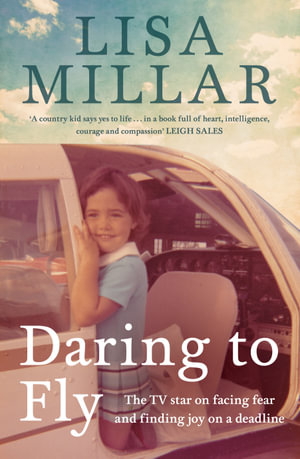 Many Australians will be familiar with Lisa Millar's reports for the ABC programme Foreign Correspondent over many years but few will be aware of the personal cost reporters and crew pay to bring us those stories. Lisa's recollections of a childhood growing up in a small Queensland rural town with her three much older siblings and younger sister are recounted with fondness. Her hardworking parents, indulgent and supportive brothers and sisters anchored her aspirations to be a journalist. What set them apart was the airfield her dad built on their property and the light aircraft her slightly eccentric grandmother bought for the family. It is ironic therefore that as an adult Lisa, whose assignments regularly required her to fly, developed a crippling fear of flying. Seeking help she signed up in 1999 for a Fear of Flying programme created by clinical psychologist Neil McLean, offered by Ansett Airlines, where she learned to control her anxiety, enabling her pursue the dream of becoming a foreign correspondent. Lisa pushed through trauma to complete her assignments including that caused by two near fatal car crashes.
She reflects on the secondary trauma experienced as a result of reporting on events such as the hanging in Singapore of drug courier Vietnamese Australian Van Nguyen and the shooting by a young man at Sandy Hook School in Connecticut of twenty grade one children and six teachers. 'You spent the first twenty-four hours reporting the details while trying to block out the horror, knowing there was a job to do. Then the reality would sink in and it was harder to push aside." pp. 179. Strength came from the support of colleagues and the particular camaraderie felt by ABC reporting teams.
This is a revealing personal account with a journalist's ability to set the scene and convey the drama of the moment and what shines through is the drive to bring world stories to the Australian public. It also reminds us of how those stories, so promptly reported from other time zones often at personal risk, have a human face and a cost that is not to be taken lightly.
Themes: Journalism, Personal growth, Trauma.
Sue Speck