Damned murder? by Burt Surmon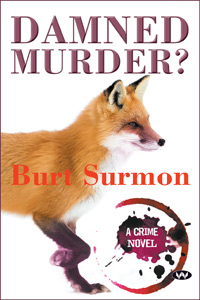 Monty and Lea run the Vale Creek Estate winery in the Clare Valley. Part of their business includes bed and breakfast accommodation and a gallery space. When their employee finds one of their guests dead near the dam on their property the police are called in to investigate. It seems the deceased, Milton Manning, was spending the weekend with Diana, a friend, and it is not clear whether his death, due to a blow on the head, was caused by a fall or murder. Investigating detectives, Louis and Sally start asking questions and find several of the many characters had a motive. Through a series of flashbacks we learn about old grudges and more than enough about things for affluent seniors to do in the Clare Valley including wineries, SALA, the Riesling Trail, Clare Gourmet weekend, Seafood Day, Marrabel Rodeo to name a few, all of which read like extracts from tourist brochures. Over the course of the investigation more characters are introduced and the timeline gets quite complicated requiring checking chapter headings to place the narrative. The detectives seem to learn more about each other than the murder, apparently seduced by the Clare Valley lifestyle, and the denouement, when it comes, seems like an afterthought. It is disappointing that a short, attractive murder mystery set in South Australia's Clare Valley failed to sparkle but maybe readers less familiar with the region will enjoy it for the tourism content.
Themes: Murder mystery, Clare Valley South Australia.
Sue Speck