D &D Dungeon Academy: No Humans Allowed by Madeline Roux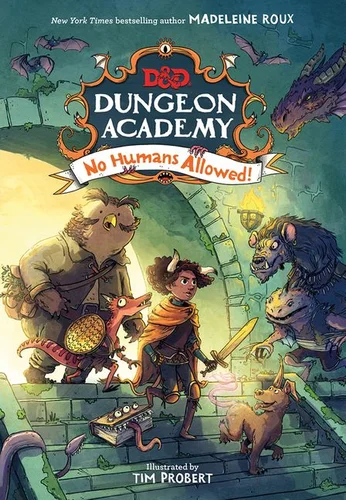 This is book one of an engaging new middle grade series by American author Madeleine Roux. To date Roux's published D&D titles include this book as well as a novel featuring the same characters (Dungeons & Dragons: a goblin problem) under the pen name Diane Walker. The next book is due for release late 2022.
This story embraces and handles diversity in such an inclusive way that I almost don't want to mention it. Yes the protagonist is a black girl, and yes she lives with her two mothers. Yes too to the presence of non-binary characters with they/them pronouns. All of this is just matter of fact.
11-year-old loner Zellidora 'Zelli' Stormclash lives in an academy for monsters and other creatures. She goes about her daily life disguised as a minotaur but has a secret known only to herself and her mothers - she is human. One day she hears of trouble outside the academy walls and sees a startling picture. The picture is of human adventurer Allidora Steelstrike who could be Zelli's twin and seems linked to the trouble. Zelli realises this is her chance to get some answers about her place in the world.
Along for the ride are a trio of other misfit creatures from the academy. There's Hugo (a vegan owlbear) and Snabla (a siblilant kobold) along with a subpar shapeshifter named Bauble.
Their adventure reveals unexpected strengths in all the characters, and some lovely themes of friendship, loyalty and bravery. In the end an expected 'boss fight' leads to Zelli getting the answers she is seeking. She has a hard choice to make and the right decision, of course, is to follow her heart.
This story moves at a very fast pace with minimal explanation or world building which leads to high interest for low effort. It will appeal to readers who are already familiar with Dungeons & Dragons, as well as those with no prior knowledge. It is highly illustrated with orange/sepia-toned cartoonish images throughout to support the text and keep readers engaged.
Themes: Belonging, Friendship, Identity, Bravery, Adventure, Adoption.
Kylie Grant