Cress Watercress by Gregory Maguire. Illus. by David Litchfield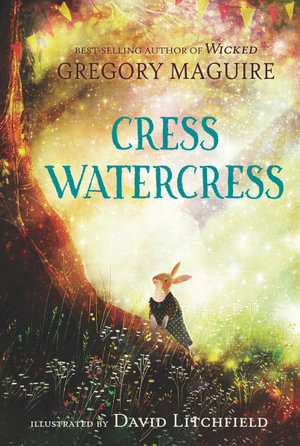 Set within a country locality, this is the story of a rabbit family mourning the loss of the father of the growing rabbit, Cress Watercress, and her younger brother Kip. The father's loss is never explained with any detail, but it causes the family to relocate to a strangely inhospitable and meagre accommodation in the basement unit of the 'Broken Arms'… an old tree overseen by the owl landlord. Their new fellow apartment dwellers and the other animals nearby slowly become more than neighbours. Cress is the storyteller of this animal fantasy tale, and is learning to find her place in her family, in their new locality and with the waxing and waning grief of living without her father. There is a sweet innocence in the story, and it is easy to grow fond of the maturing Cress as she learns about life, love and family, and tries to be the best rabbit that she can be.
Written by the writer of Wicked, which inspired the musical of the same name, this is a simple fantasy tale and reminiscent of Watership Down, but perhaps without the allegorical overtones. It is naive and will be enjoyed by young readers. The dangers of the local fox, bear and snake, and the friendship with the playful squirrels are just part of the ebb and flow of life in the animal world. Children aged 7+ will recognise the struggles of growing up when things do not go smoothly or when fear enters one's life. This is worth reading for its simplicity and heart. Illustrations are simple but reveal details that will appeal to young readers.
Themes: Animals, Grief, Family, Resilience, Friendship.
Carolyn Hull