Creature by Andrea Ballance and Grasya Oliyko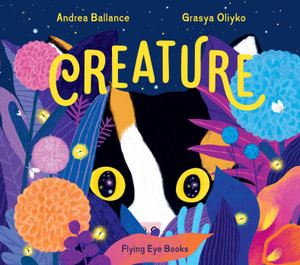 Eyes stare at the reader from the cover, eyes that almost defy logic as the reader takes in its surrounds, the blocks of colour exciting fervent interest. Is it a cat? Opening the book will reveal the creature within.
A mother cat and her kitten pounce through their world, seeing galaxies, stars and comets in the house and garden. Worlds unfold as they reveal their surroundings: the moon a hammock, the round chair in the lounge a planet, the moon and stars reflected in their eyes. The pair plays in the foliage, pounce at things in the house, see asteroids and comets in the plants of the garden, drink deeply from the Milky Way before allowing gravity to pull them back to earth, ready to dream again.
In this quirky tale, imagination takes hold as the cats play within the confines of the house and garden but all the time viewing what is beyond their orbit. Words fly around, all the words that denote the objects in the sky above, looking into the space above our heads. What a wonderful introduction to the night sky and all it entails, seeing it through a cat's eyes, but scaling it down to the glory that is all around, impelling younger readers to think and discuss the words in the context of space beyond them, but seeing it in the microcosm of their garden and house.
The wonderfully colour filled illustrations will enthral readers as they turn the pages, waiting to see what is offered overleaf.
Kids and adults will love the use of words common to the night sky encouraging discussion and observation as they peer into it for themselves.
Flying Eye Books (FEB, for short) is the children's imprint of award-winning visual publishing house Nobrow. Established in early 2013, FEB sought to retain the same attention to detail in design and excellence in illustrated content as its parent publisher, but with a focus on the craft of children's storytelling and non-fiction.
Their books add a layer of difference, of interest and intrigue to the trove of children's books, and I look out for their new books, because I know I will be in for a treat, one that makes me stop and think deeply about what I am reading.
Themes: Space, Night sky, Cats, Play, Humour.
Fran Knight