Courtney Little Plots and potions by Aleesah Darlison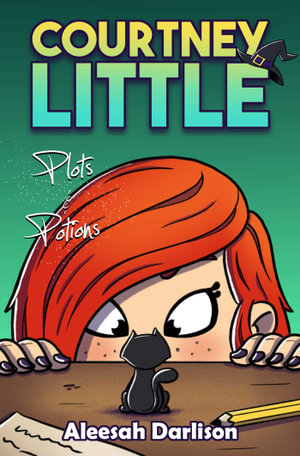 Plots and Potions is the third book in the Courtney Little series, written by Aleesah Darlison. Previously printed as the Little Witch series, these books have been republished with a more modern format. If you enjoy a bit of Hocus – Pocus magic, added with a little adventure and mystery, then this series will appeal to you!
Protagonist, Courtney is still developing her skills in casting spells and mixing potions. She loves learning more about the newly found magical abilities that were passed down to her by her late Grandmother, Delia. From the special magical spell book, that was gifted to her, she is kept very busy, trying to perfect her new witchcraft…. and she can't go anywhere without her enchanted cat, Ink.
Unfortunately, though, Courtney is expected to attend her year 7 camp. She would much rather stay at home, read her spell book and be with Ink than hike up huge mountains, be outdoors and do sport! So, to make the experience a little more enjoyable, she works out a way to bring Ink along too……using a little magic of course! But camp turns out to be much worse than even Courtney had expected. On arrival she has a bad gut feeling about the site leader, Maude Mouseheart and as the new kid in town, she is still trying to navigate her way around making some friends. Camp life can be rough, but fortunately Courtney is resilient and strong. So, when she uncovers some sinister activities by Miss Mouseheart, Courtney takes action. But can her magic potions and spells fix all the problems that have arisen or will evil prevail?
Aleesah Darlison has written another charming sequel in the Courtney Little series for those lovers of magical witchery and adventure. Plots and Potions is filled with fast paced suspense and excitement and is an easy read for the young audience. This has a storyline filled with far-reaching fantasy, yet relatable characters. It is bursting with magic, mystery and friendship, and certainly a twist of the unusual.
Themes: Magic, Adventure, Friendship, Animals.
Michelle O'Connell