Common Wealth by Gregg Dreise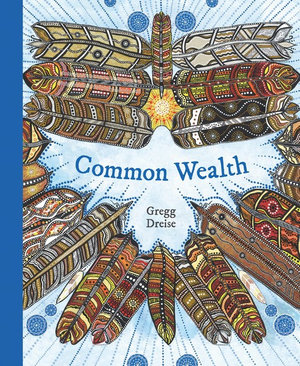 Common Wealth is a stunning slam poetry persuasive picture book written by well-known author and illustrator Gregg Dreise. Slam poetry for those new to the term is a form of performance poetry that combines the elements of performance, writing, competition, and audience participation. (Britannica Online). This new release provides a powerful plea for unity, acceptance and understanding of Australia's long and complex history. From the beautiful green and yellow images on the endpapers to the careful use of dot painting interwoven with more detailed illustrations, the reader will be transfixed by the strong yet hopeful message in this book. The author has cleverly intertwined the Australian National Anthem with historical aspects of the last two hundred years of white settlement. "They say we are young and free, but it's easy to see; from the oldest culture in the world - that line doesn't include me." Dreise writes and illustrates about the treatment of the Aboriginal people by the early soldiers and settlers, the damage to the land by farming and mining, the white history taught in schools. His peaceful plea is for all peoples in Australia to unite, become one community showing respect for each other's culture. The striking front cover of feathers is explained further in the book:
A bird can't fly with just one feather; they need to work together.
When we do this too, our future will soar forever.
Different colours and backgrounds-
whatever;
our harsh climates make us tough like leather.
so together we can handle any stormy weather.
This truly inspiring book will be a valuable resource for Reconciliation Week and NAIDOC Week. A must for all school and public libraries. Teacher notes are available.
Themes: Indigenous History, Australian History, National Sorry Day, NAIDOC Week, Australia Day, Australian National Anthem, Unity, Community, Indigenous Art.
Kathryn Beilby